Juniper's Hinges Go Low and High
Special Advertising Section for Juniper Industries • www.juniperindustries.com As a diversified company.
Juniper Industries, which has been operating out of its headquarters in Middle Village, N.Y. since 1928, has been dubbed the premier independent m a n u f a c t u r e r and developer of Navy standard watertight doors, hatches, scuttles and manholes.
To maintain this position that J u n i p e r has worked to achieve within the industry, the company invests in a large inventory of parts, which enables t h em to supply shipyards and repair facilities the hardware their customers need — right off the shelf.
In addition to product innovation.
Juniper provides its c u s t o m e r s with v i r t u a l online price quotes and ordering system as well as direct technical assistance through a variety of mediums via phone, fax and its informational web "Tips and Techniques" section. Juniper also o f f e r s c o m p r e h e n s i v e training courses instructed by technical spec spec i a l i s t s in the field with regards to watertight closure repair and parts replacement.
The company, which boasts more than 200 employees also offers a line of ventilation products including dampers, flame arresters, duct, duct fittings, access plates, deck ventilators and bellmouths.
Even though the company recently added an improved actuating system to its toxic gas dampers making the product more efficient and cost effective, they will still, through its research and development, stop at nothing to continually assess this growth potential in the damper field, and is actively k e e p i n g an ongoing watch to increase its share of the air control, fire, smoke and toxic gas damper market.
The company has also grabbed a f o o t h o l d in its electronic technology through its EDI capability, which has paved the way for successful compliance of strict DVD contracts for some of its largest clients.
What does the future hold for J u n i p e r ? The company will undoubtedly make headlines with its involvement in two high-profile p r o j e c t s currently underway for the U.S. Navy and U.S. Coast Guard.
The company will be involved in supplying its products for both the Navy Littoral Combat Ship (LCS) and U.S. Coast Guard Deepwater program. In no uncertain terms did J u n i p e r become involved with these projects by chance as they have proven themselves through successful relationships with repeat customers such as the U.S. Navy, and both the Northrop Grumman and General Dynamics Groups — all of whom are involved with these current programs.
The f o c u s of the 75-year old company remains on continuous product improvement as evidenced by its capital expenditures of the latest CNC equipment.
The most recent addition to J u n i p e r ' s current facility list includes a 357-ton, 14-ft. 11 axis Trumpf press brake. This n ew addition complements J u n i p e r ' s existing line of press brakes, which range in size f r om 50-ton, 3 ft. to 750 ton, 20 ft.
Circle 326 on Reader Service Card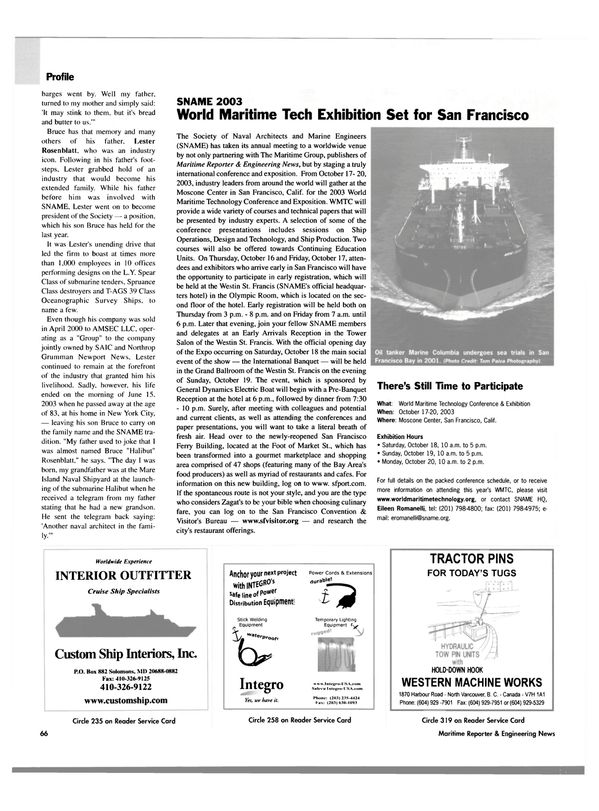 Read Juniper's Hinges Go Low and High in Pdf, Flash or Html5 edition of October 2003 Maritime Reporter
Other stories from October 2003 issue
Content